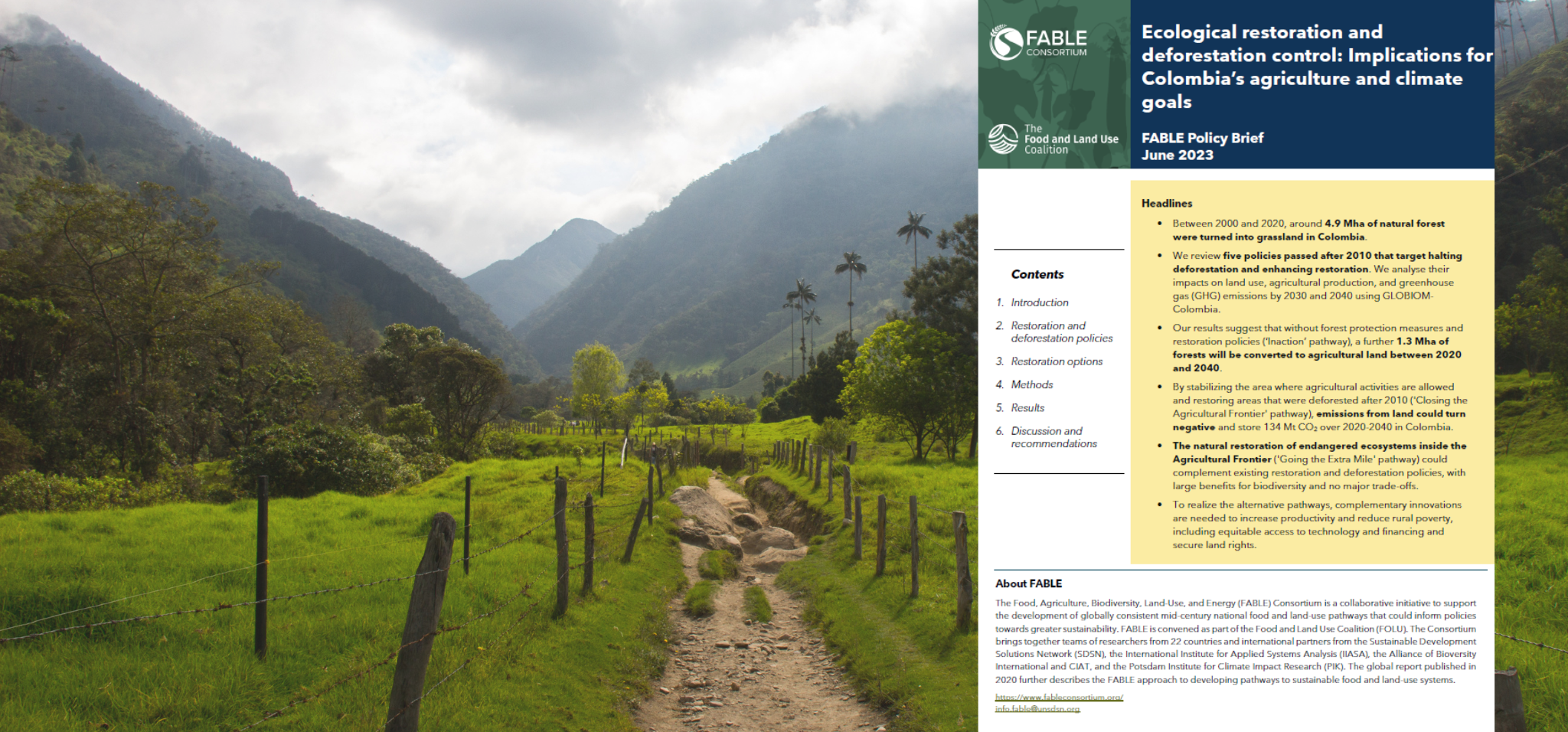 New research conducted by the FABLE Colombia team led by Javeriana University, and the International Institute for Applied Systems Analysis (IIASA) sheds light on the urgent need to adapt restoration policies in Colombia. This policy brief presents key findings from the analysis, highlighting the importance of focusing on specific areas that have not been adequately addressed in current restoration efforts. By considering these overlooked areas, Colombia can mitigate the adverse effects of deforestation, promote biodiversity conservation, and contribute to climate change mitigation.
The current situation
Colombia has experienced significant deforestation in recent years, leading to a loss of natural forest cover and substantial greenhouse gas emissions. Between 2000 and 2020, approximately 4.9 million hectares of natural forest were converted into grasslands, with the Amazon region being the most affected. Deforestation in Colombia accounted for 1.24 gigatons of CO2 between 2013 and 2020, resulting in both environmental degradation and biodiversity loss.
Key findings and proposed pathways
Using GLOBIOM, the authors developed three scenarios to model the potential outcomes of different policy approaches:
• Inaction Pathway: If no forest protection measures or restoration policies are implemented, an additional 1.3 million hectares of forests will be converted to agricultural land between 2020 and 2040. This pathway is highly detrimental to the environment and exacerbates climate change.
• Closing the Agricultural Frontier Pathway: By stabilizing agricultural expansion beyond the boundaries of the Agricultural Frontier and restoring areas that were deforested after 2010, Colombia has the potential to store 134 million metric tons of CO2 between 2020 and 2040. This approach would have minimal negative impacts on agricultural production.
• Going the Extra Mile Pathway: In addition to the measures taken in the previous pathway, natural forest restoration would focus on priority areas with endangered forest ecosystems. This pathway presents an opportunity to restore approximately 2.76 million hectares of forest by 2040, significantly contributing to climate and biodiversity goals. The decline in cattle meat production resulting from this pathway is relatively small (1.1%) compared to current trends.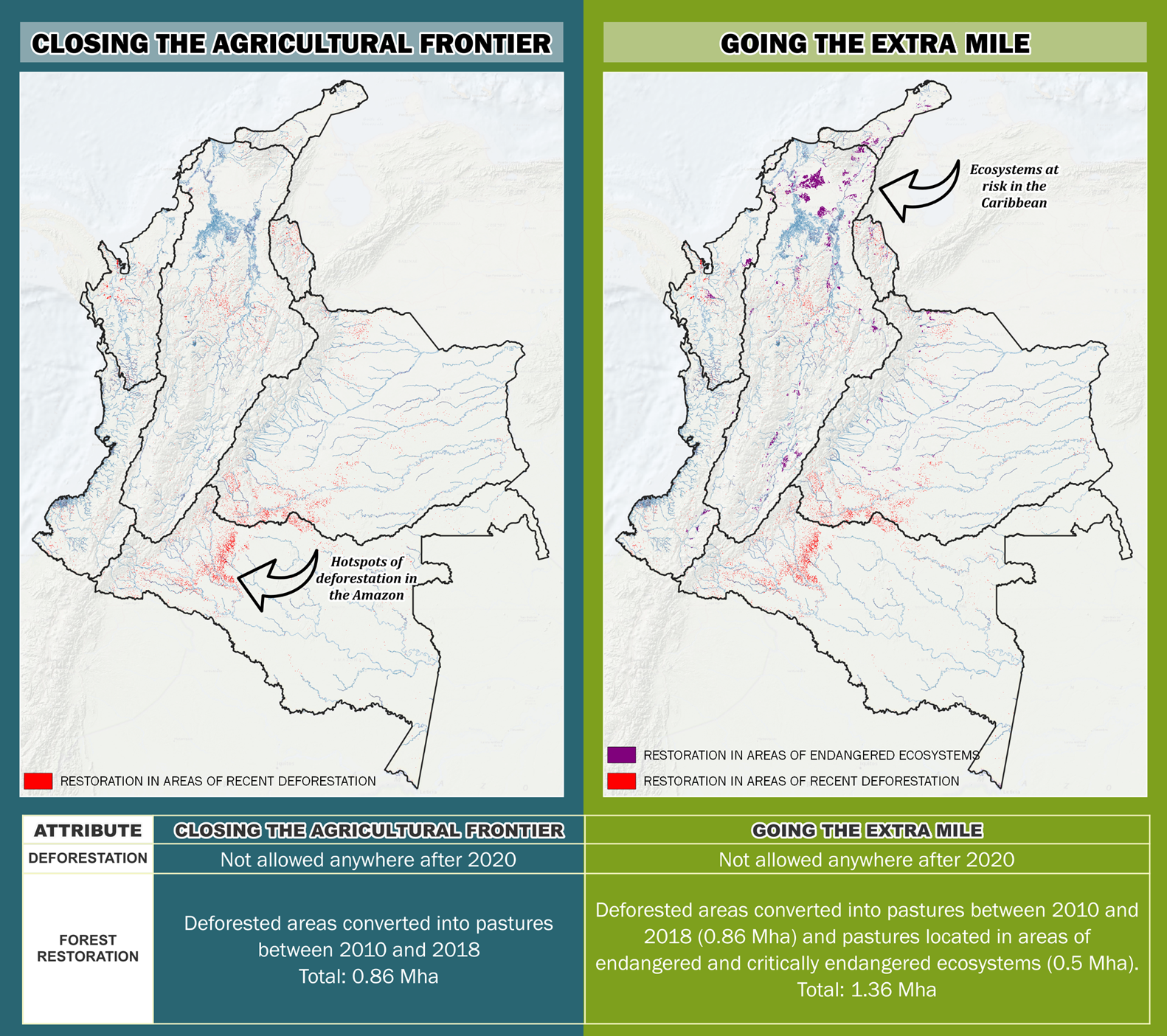 Description of the scenarios and targeted restoration areas. Source: Authors' calculations.
Read the Policy Brief
Key recommendations
Based on the research findings, the policy brief provides several recommendations to enhance restoration policies in Colombia:
• Target high-risk ecosystems: The revised National Restoration Plan should prioritize areas where ecosystems are most at risk, even within the Agricultural Frontier. By focusing on these regions, Colombia can maximize the benefits for climate and biodiversity.
• Community engagement and support: Gaining the support and buy-in from rural communities and farmers is essential for successfully implementing policies that restrict agricultural expansion in certain areas. Incentives, land ownership formalization support, community roundtables, and job creation initiatives are crucial to mitigate the negative impacts on livelihoods and foster sustainable development.
• Enhance agricultural productivity: While restoration efforts may lead to a slight decrease in cattle meat and milk production, this can be offset by increased imports and improvements in agricultural productivity through technology innovation and investments. Promoting investments and policies that incentivize and facilitate agricultural productivity gains, particularly in the livestock sector, can reduce the need for expansive pastures and mitigate the trade-off between agricultural land and restoration efforts.
• Improve spatial resolution: The current low spatial resolution used to demarcate the Agricultural Frontier hinders effective policy implementation at the land property level. Prioritizing the use of local-scale and high-resolution instruments can provide greater precision, ensuring legal certainty, identifying priority areas for support, and reducing incentives for deforestation.
Meet the Colombia team