Be part of the 2023 FABLE Scenathon:
This year, FABLE country teams are running a 'Scenathon' (a marathon of scenarios), to build national pathways that are consistent at the global scale. The teams have built three alternative pathways to 2050 to test the impact of practices and policies on the achievement of global sustainability targets and national goals for food and land-use systems.
To ensure these pathways are as relevant and accurate as possible, FABLE is conducting a stakeholder consultation to gather feedback on (i) the national targets chosen by the FABLE country teams and (ii) the accuracy of the assumptions made during the scenario-building process.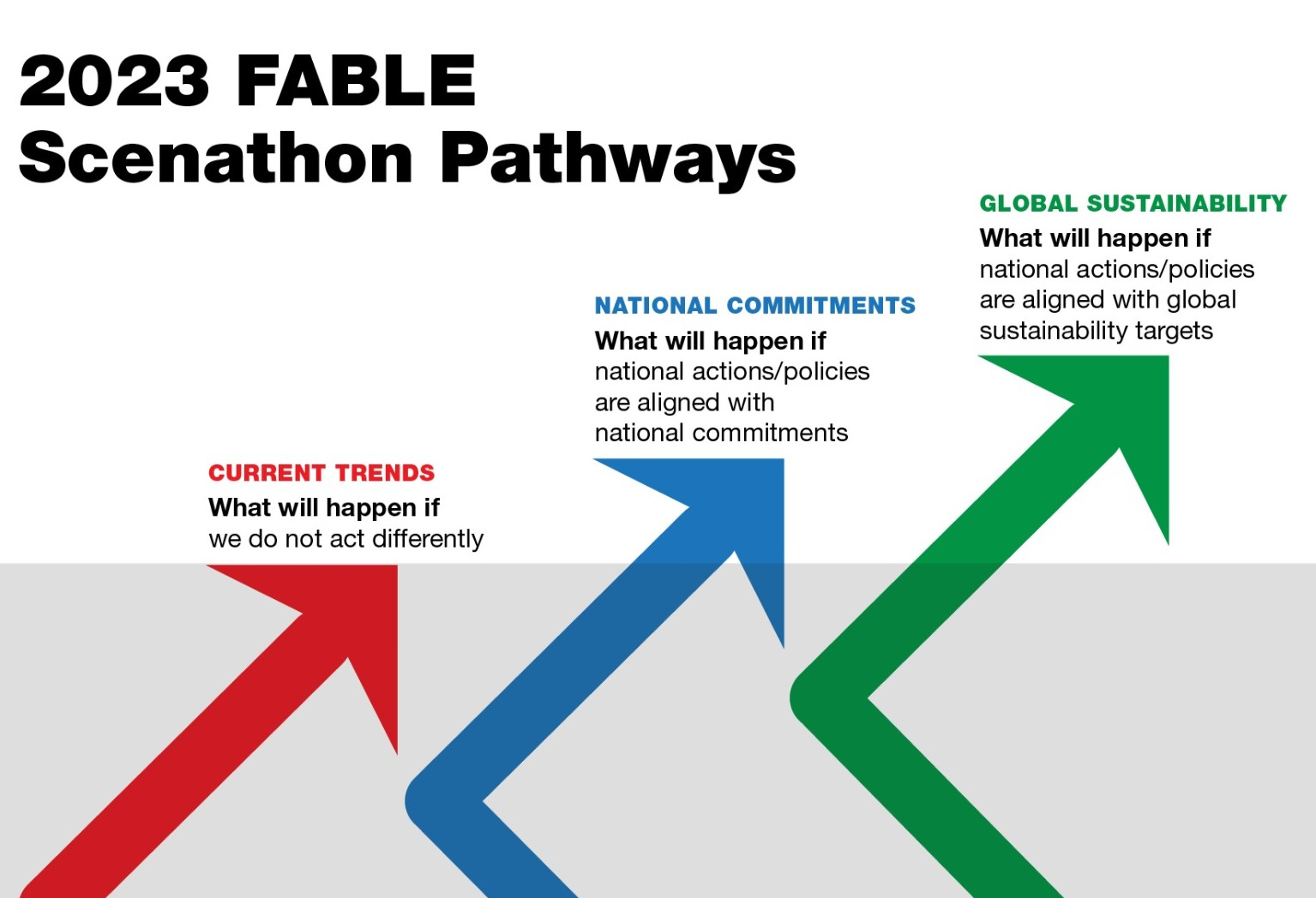 To build these national pathways, FABLE country teams have designed scenarios and national targets related to agricultural production, food security, climate change mitigation, biodiversity protection, agricultural trade, use of water and fertilizer, according to recent national policies and government commitments.
To ensure complete global aggregation, the FABLE Secretariat produced regional Calculators, using regional assumptions and targets, to develop regional pathways that cover all the countries that are not represented by FABLE teams.
If you have any insights regarding additional policies or scientific evidence that should be considered, we are interested in hearing from you.
Instructions:
Step 1. Explore the national targets and the assumptions behind each pathway in FABLE countries and regions (below).
Step 2. Choose the country or region you want to give feedback on.
Step 3. Download the National Targets and/or Assumptions for each country or region.
Step 4. Share your insights using the feedback buttons.
The deadline to participate in the consultation is 1 November.
View the National Targets & Assumptions in FABLE Countries:
Argentina
Australia
Brazil
Canada

China

Colombia
If you want to receive updates on the results from this Scenathon, subscribe to our newsletter.